Social Distancing
Our vessel, the M/V social distancing, is aptly named as a result of the global pandemic and the fact that the way we choose excursions has changed because of it. Previously excursions were ran based on the number of available spaces on a boat, now with new social distancing protocols, people are forced to stay so many feet apart in an effort to control the spread of the deadly Covid 19. This  means less people on boats for public group trips but still more than most of us would like to be on a boat with.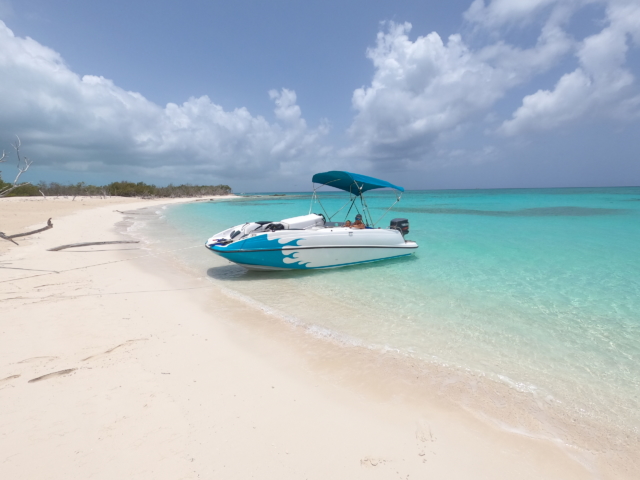 For the ultimate in social distancing we have just the right boat for you. M/V Social Distancing is a 22' bow rider with yamaha 200 hp outboard motor, all around deck boat style seating and coast guard approval for 12 passengers.
Looking to escape the crowds this is the ideal boat for you and your loved ones or companion where the excursion can be tailored to your desires. We have a basic excursion schedule that works around the timeline of your charter but we can be flexible and make it what you want, within reason.
Option 1:
Our base option is a two hour excursion where we take you for a cruise along the the North coast, all the way out to the barrier reef for a 30 minute snorkel, a 20 minute stop at the Iguana island for a guided tour of the Iguana reserve and then back to your pick up point. If you have visited Iguana Island before we can substitute that part of the tour for a visit to the shipwreck on the Caicos Banks
Option 2:
A 3 hour tour gives you all the options above and a further cruise to Fort George Cay/Shell Island for a swim or walk on the sand bar, a quick stop at the Cannons and then back to the resort.
Option 3:
Half day (4 hours)
On this tour we do a coastal cruise, barrier reef snorkel, Iguana Island, Half Moon Bay, and either Shell Island or the Shipwreck
Option 4:
Full Day (7 hours)
Mix and Match/Build your own tour based on these options.
Barrier Reef Snorkel
Iguana Island
Half Moon Bay
Shipwreck stop and jump off
Fort George Cay
Sand Bar
Beach Combing
Cannons Snorkel
North shore slow coastal cruise
Tours of 4 hours or more include deli sandwiches for lunch, beers, rum punch, bottled water. Tours of less than 4 hours include drinks only.