Whale Watching (Cruise Ship Passengers)
Seasonal Tour: Available mid Jan to mid Apr
Our whale watching adventure gives you a front row seat to one of the most impressive shows on earth. You might be lucky enough to witness these beautiful, impressive and gentle humpback whales put on a repertoire of mind blowing behaviors ranging from males' acrobatic competition for a female, a single male's haunting pursuit of a mate or a whale mother's gentle educational displays to a newly arrived calf.
Seeing these amazing creatures live, often at an arm's length, has changed the lives of many people: let it touch your heart and enrich your way of seeing the world!
Board our purpose built 46′ Power Catamaran, powered by twin Yamaha f250hp outboard motors, configured with lots of seating, both sun and shaded areas, an elevated flybridge for better spotting whales from a distance, marine toilet and PA Microphone system for crystal clear narration of the tour. Our boat has an 85 person capacity but we restrict the group sizes for a more intimate experience.
The tour is run by experienced local captains and a marine biologist to inform you about the whales and answer any questions you may have.
We head out to an area that we have had many sightings in search of some whale activity, if the first area yields no sightings then we head to a second spot and if not then on to a third. We also try to co ordinate with other boats in the area.  Once whales are located we head out to where they are and observe them from a distance being careful not to startle them or disrupt them. Sometimes they will approach the boat and hang around for a while.
We also have a hydrophone on board which, conditions permitting, we will drop into the water and see if the whales will give us a song.
Until recently it was common belief that the Silver Banks were the actual breeding grounds of the Atlantic Humpback Whales, recent research, data collection, photos and sightings have proven that this is not so. During the whale watching season December 2018-April 2019 we have recorded sightings of baby Humpbacks just a day or two old. It is amazing to see the mother training her calf to swim and pushing her up to the surface to breathe. When the calf is that young the mother tends to stick around in the same area nursing her calf in preparation for the big journey back to their feeding grounds in North America.  There were days where we have encountered as many as 6 mother calf pairs in one trip.
This is a boat only tour and due to Cruise Ship regulations, you are not permitted to snorkel with the whales on this excursion.
Between the winter months of January and March the Atlantic Humpback Whales make the journey from North America to what used to be defined as their breeding grounds on the Silver Banks which is just South of Grand Turk and North of the Dominican Republic.
During this voyage these gentle giants pass right by the Turks and Caicos Islands passing so close to Grand Turk and Salt Cay that you can actually see them from the shoreline.
Humpback Whale Watching Season is at its best between the months of January and the end of March with sightings as early as November and as late as the end of April.
Our Whale Watching this year will begin January 15th and run thru April 15.
According to whale experts, The Atlantic Humpback Whales MEGAPTERA NOVAEANGLIAE, that migrate to the Turks and Caicos, were born here and like Turtles, they return to their birth place to breed. After the winter months the head back north to the Krill and Plankton rich waters of Maine, Greenland and Eastern Canada, where they can consume as much as 2,500 to 3,500 lbs of food in a single day. This is stored in fat and blubber as their energy source for the long swim to their breeding ground, sustainability whilst there and the long swim back North after the mating season.
Adult Humpback whales can weigh as much as 80,000 lbs, grow to 50 feet and live up to 75 years. The males tend to be smaller than the females but both can launch themselves into the air, crashing down making a huge splash and lots of noise.
Their approximate 3,200 mile Journey South begins in the Fall and depending on their departure point can take anywhere between 35 and 50 days to reach their breeding grounds around Grand Turk, Salt Cay, Silver Banks and Samana Bay in Dominican Republic. Our team have spotted Humpback Whales in the Mona Passage West of Puerto Rico and near Saona Island at the South Eastern tip of the Dominican Republic. This annual event starts off with males looking to mate or simply being an escort for an already pregnant female and is accentuated with the males singing a haunting melody for the entire journey. We have seen Mothers heading South with babies believed to have been born the year before even though it is believed that they wean their young around 8 months to a year.
Babies when they are born weigh around 2,500 lbs and will drink as much as 300 gallons of milk per day from the mother and she will stay close to her calf, keeping it on her back and pushing it up to the surface to breathe, until the calf is strong enough to swim and surface for air on its own. The mother will keep the calf in the warm shallow waters around Grand Turk ad Salt Cay nursing it until it is strong enough to start the journey North to its feeding grounds. During this period the calf grows stronger and will approach boats and swimmers in the water out of curiosity therefore providing some once in a lifetime photo opportunities. During the entire Migration the humpback whale will not eat.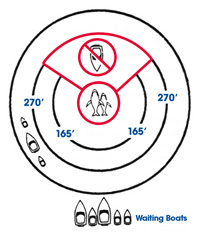 1. Only three vessels are allowed to watch any whale or group of whales in the observation area, at one time.
2. Whale watch vessels waiting to watch the same whale or group of whales must remain 250 meters behind the observing vessels in the designated waiting area.
3. If there are vessels in the waiting area, observations will be limited to 30 minutes with a whale or group of whales.
* Vessels in the waiting area, enter the observation area, in order of their arrival.
4. Vessels may approach to within 80 meters (270 feet) of a mother and calf and 50 meters (165 feet) to all other groups of whales.
5. Vessels navigating in the whale watch area should not be travelling at more than thirteen knots.
* The approach speed, from 270 meters, should be less than 3 knots (idle speed).
6. Once the observation distance has been reached the engine should be placed in neutral. It is prohibited to turn a vessels engine off while observing whales.
7. No vessel will allow passengers to touch the whales once they enter the water with whales. It is prohibited to touch or approach whales, relax and allow them to come to you if they seek an interaction. When entering the water effort must be made to avoid a splash or any noise that could startle he whales
8. It is prohibited to watch whales from aircraft or helicopters.
9. Aircraft must remain at altitudes greater than 1000 meters with a horizontal distance of 1000 meters. It is prohibited to fly directly over any species of whale or dolphin.
Best Practices
10. Never cross in front of a whale, this may change its direction of navigation.
11. Never stop, accelerate or rev the engine of your vessel brusquely, as the resulting sound may startle whales and change their behavior.
12. Always maintain a position slightly behind and parallel to whales moving at the same speed in the same direction.